Hi!

Don't post very often, because (1)I wanted to make sure my work was appropriate for this community, and (2) I don't have a lot of pics of my work, but I recently scanned some of my swatches, and since I'm having a hard time finding resources on this subject, I guess it's "different", though I defer to the mod's judgement!

I'm wondering if there's anyone else out there experimenting with integrated cables in crochet. Most crochet books give instruction for crocheting treble or double stitches "proud" of the previous rows so they sit on top and give the appearance of a cable. That sort of technique is not what I'm interested in. I've been working on cables who's actual construction is worked like a knitted cable: the actual work is "puckered" or "folded" with anchoring stitches to create the under/over impression. I don't knit AT ALL, so it took me awhile to figure out the internal construction of knitted cables (mostly from step-by-step pictures in knitting magazines), but the swatches are coming along, and I have completed my first cabled sweater! Yay, me!

Haven't got my pics of the sweater developed (and it's too big for my scanner :) ! ), so here are some swatches. I'd be VERY interested in anyone else's work along these lines and/or advice on books and magazines on this subject that I might be able to buy!

(all work is done in fingering weight yarn, and scans have been brightened in Photoshop to make them clearer)


Blue Cable Swatch worked in faux-knit stitch and single-crochet:


Same swatch shown flattened to give better view of background stitches:


Same swatch again showing reverse side. The cables are created by "puckering" the flat work as it is worked, row by row.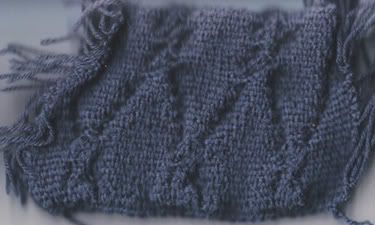 All rows worked one direction only.





Thanks for any input!

:)
AT